K4S martial arts links together knife combat, stick fighting, and empty hand in a simplified modern learning method.

We specialize in the art of solo training, because we understand that in real life you can't always attend a martial arts academy.

WEAPONS
K4S specializes in these small arms:
Tactical Knife, Stick/Baton, machete, Karambit Knife, Palm Stick/Kubotan, Boxcutter, Tactical Flashlight and Pen.

PHILOSOPHY
In the name of truth, some people have very negative attitudes towards others.

Our code is to NOT discriminate style or technique, instead we harmonize and respect the 3 general types of martial arts; Traditional, Tactical, and Sport.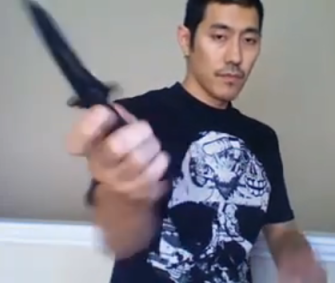 Sensei Wmpyr
Wmpyr proudly follows the STRAIGHT EDGE life style because to him martial arts is more than just fighting skills but a way to live.
His teaches in a "backyard" type of training rather than commercial, because he admires Bruce Lee and Mr. Miyagi.

Wmpyr loves the diversity in martial arts, this is expressed through his study of a variety of styles from around the globe.

Wmpyr chose to specialize in the knife and created the K4S style out of necessity for himself. After seeing how effective and beneficial it was, he decided to share it, mainly through Youtube. Wmpyr is also one of the first people to offer online knife and stick instruction on Youtube.

Wmpyr's Youtube channel, www.youtube.com/wmpyr



CONTACT:
knifebat@yahoo.com