BASIC KNIFE COMBAT 101
K4S Method by Wmpyr
短剣戦闘術の基本技
K4S流 ワンパイヤー作
K4S Basic Knife Combat
by Wmpyr
Copyright 2011
PART 1 KNIFE INTRO
There are many types of knives in the market today. Box cutters, diving knives, survival knives, utility knives, hunting knives, cooking knives, and the list goes on and on. For our specific quest, it is important for us to study tactical and combat knives.
第1部:ナイフ紹介
現在では多くの種類のナイフ製品があります。カッターナイフ、ダイビングナイフ、サバイバルナイフ、ユーティリティナイフ、ハンティングナイフ、包丁、およびリストは延々と続く。私達の場合、戦闘ナイフまたは、ポリス/ミリタリーナイフを学習することが大切です。
TDI LE Knife by KA-BAR
Fixed Blade for Law Enforcement
For knife combat, most people prefer a fixed blade because it's simple, strong, and fast deploying.
KA-BAR TDI LEナイフ
それは、シンプルで強力、高速デプロイだからナイフ戦闘術の場合、ほとんどの人は、このタイプの固定刃を好む。
LLC and Drone (Training Knife) by Cherusker Messer
Knife designed by Martial Arts Expert
Many tactical knives have a training knife version. A training knife is a safe and smart investment if your looking to really improve your knife skills.
Cherusker Messer LLCナイフとドローン(トレーニングナイフ)
武道の専門家によって設計されたナイフ
多くの戦闘ナイフは、訓練ナイフのバージョンを持っている。本当にナイフのスキルを向上させたいのなら訓練ナイフは、安全でスマートな投資である。
SUBCOM Folder by Boker Magnum
Small Tactical Folding Knife
Some people have small tactical knives because they are easy to conceal and carry.
ボーカーマグナム SUBCOM FOLDER
一部の人々は、小さなタクティカルフォールディングナイフを好み持っている。理由は、非常に隠しやすいのと持ち運びしやすいからです。
Urban Camo ExtremeOps Karambit by S&W
Karambit style Folding Knife
The Karambit is generally a smaller knife with a curved blade and a finger ring at the butt of the handle. The Karambit has been very popular in recent times and practiced in many martial arts styles including Kali, Silat, American Kenpo Karate.
S&W ExtremeOps Karambit
カランビットスタイルフォールディングナイフ
カランビットとは一般的にハンドルに小さい指輪と湾曲した刃のあるナイフです。カランビット は、最近非常に人気があり、アメリカン拳法空手、シラット、カリを含む多くの武道のスタイルで実践している。
PART 2 GRIPS
There are many many different types of grips, but for now, these four basic grips provide a good place to start.
第2部:グリップ
グリップには、多くの種類がありますが、今のところ、これらの四つの基本的なグリップは大切と思います。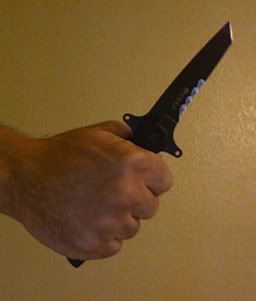 Standard Grip using the CRKT M16-13SFG
The most natural grip.
CRKT M16-13SFGを使用して、標準のグリップ
これは最も自然なグリップ感。
Reverse Grip
Also called the Ice Pick Grip. The second most common grip.
リバースグリップ
またアイスピックグリップとも呼ばれる。二番目に一般的なグリップ。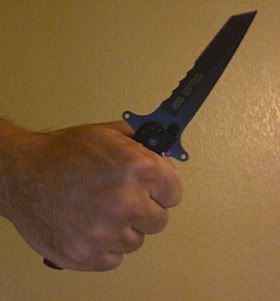 Ripper Grip
Good for tearing stuff open.
リッパーグリップ
物を開いて引き裂くために良い。
Mantis Grip
Good for a strong downward pulling motion.
カマキリのグリップ
力強く下降に引っ張る動きに適しています。
PART 3 STANCE
Our stance comes from Knifeboxing which is a mixture between Knife Combat and Kickboxing. Your basic stance is similar to a Boxing/Kickboxing stance. One side of your body should be to the front and the other is to the back.
Remember to always keep the point of the knife and the blade edge facing away from yourself.
第3部:スタンス
私たちのスタンスは、ナイフ戦闘術とキックボクシングの混合物でありナイフボクシングから来ている。基本的なスタンスは、ボクシング /キックボクシング のスタンスと似ています。あなたの体の片側が前面にでなければならず、常にナイフの刃と刃先の位置を維持してください。
Holding the knife in the Reverse Grip
リバースグリップでナイフを握る
Holding the knife in the Standard Grip
標準グリップにナイフを握る
PART 4 KATA
The following two forms come from the FMA (Filipino Martial Arts) such as Arnis, Eskrima, and Kali. The key is to do them continuously and to flow from one move to the next. Both forms can be done with either fluid speed or brutal power.
第4部:形
次の2つの形態には、アーニス、エスクリーマとカーリーなどのFMA(フィリピン武術)から来る。継続的にこの形を実行すると、一手から次へ流れるようになります。どちらの形式も、スピーディーやパワフルな方法のどちらでも行うことができます。
Form Number One
フォームの1号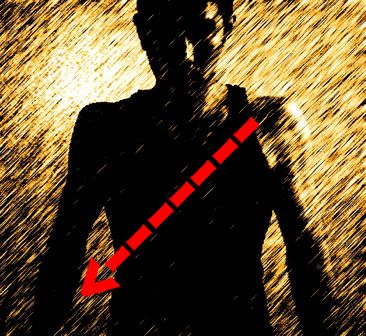 1. Come down with a powerful slash.
1。強力なスラッシュで降りてくる。
2. Come down from the other side with a powerful slash.
2。強力なスラッシュと反対側から降りてくる。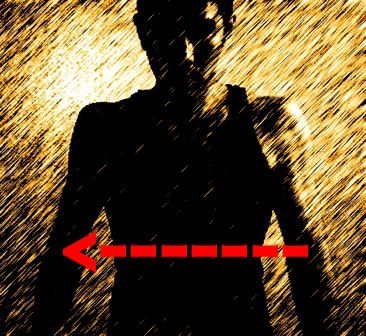 3. Slash them horizontally
3。水平方向にスラッシュ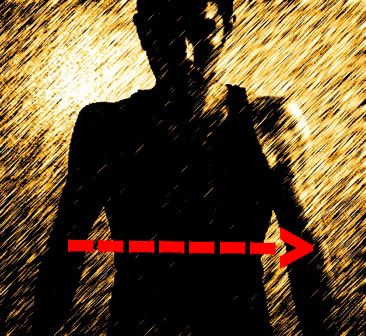 4. Slash them again horizontally but from the other side.
4。反対側の横方向から再びスラッシュ。
5. Finish with a stab to the center.
5。中心に刺します。
Form Number 2
Dan Inosanto taught this set for his Kali class, it originally had 6 moves, number 6 was a move where you stab and flick out the eye.
フォームの2号
ブルースリーの一番弟子ダンイノサントは、六つの技をこのセットで教えていた。6番目は目玉を刺し出すテクニック。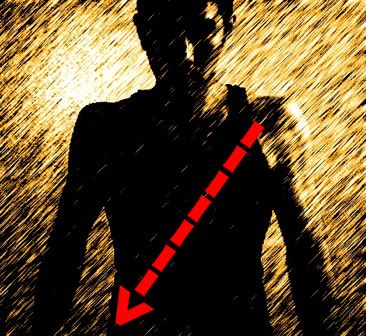 1. Slash down diagonally.
1。斜め下に切りつける。
2. Slash back up the way you came.
2。前と同じ方向で切り返す。
3. Slash up from the other side.
3。反対側からスラッシュ。
4. Slash back down the way you came.
4。斜め下にバックスラッシュ。
5. Finish with a stab to the center.
5。中心に刺します。
PART 5 KNIFE DEFENSE
Defang the Snake is a famous defensive concept in FMA. The idea is to attack the attack so that they lose their weapon.
第5部:ナイフの防衛
スネークを徳芳するFMAで有名な防御的な概念です。アイデアは、彼らは武器を失うように攻撃を攻撃することです。
To defend against the knife, use an Eskrima stick or tactical baton. Use the same techniques from the two forms we showed you previously for the knife. You want to strike at the attacker's hand so that they will drop the knife.
If you do not have a stick, you can try to cut their hand with your knife, but this is much harder to do.
ナイフから身を守るために、短棒、半棒、または警棒を使用してください。我々がナイフのために以前お見せした二つの形式からの、同じテクニックを使用してください。敵がナイフをドロップするように、攻撃者の手をストライクしてください。
あなたが半棒を持っていない場合、ナイフで敵の手をカットしてください、これは実在に行うことは半棒の時より難しいです。
PART 6 TRAINING
Cutting the air is not the same as cutting something for real, so it's important to get some experience using real blades on various targets.
第6部:トレーニング
空気をカットすることは実際に何かを切るのと同じではありませんので、さまざまなターゲットで切る経験を得ることが重要です。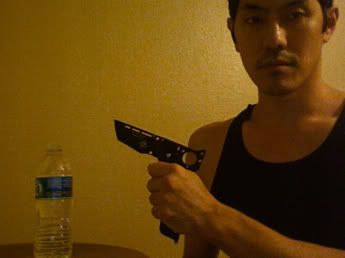 Cutting water bottles
Treat the water inside the bottle like blood, and try your best to avoid getting splashed on when cutting.
水のボトルを切断
ボトルの内部の水を血と扱い、切断時に帰り血を浴びない訓練です。
Getting ready the STI KNIVES BODYGUARD P001
Slashing and stabbing against a wooden board is also excellent practice.
STIナイフのボディーガードP001準備中
木製のボードに切りつくのも刺すことも優れた訓練です。