The Spade
"Invisible Predator Push Dagger"
Highest Quality Acrylic
Super Strong
Non metal
Light weight
$20 plus shipping and handling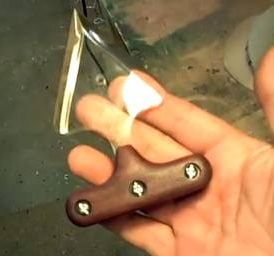 Upgrade to "The Grave Digger" with gorgeous wooden handle scales.
$45 plus shipping and handling
Place your order at:
Youtube.com/CyberDruidtheModGod
This futuristic weapon is light weight and compact, virtually invisible, undetectable, and make no mistake, The Spade is capable of delivering lethal force.
Another absolutely gorgeous creation from RW that is a work of art rather than a self-defense tool.
"Reminds me of the Night Shade series from Cold Steel except that they don't have a push dagger, and those are in plain black, this is ice crystal acrylic, strikingly beautiful to look at." - Wmpyr
This weapon is RW not holding back, despite it's compact size, this is a lean mean killing machine. It's absolutely stealthy in so many ways, and the amount of horrific brutality it can deliver is absolutely contrary to how beautiful it is to look at, it's like jewelry. This is beautiful death.
"It punctured and tore through cardboard like nothing, it has tendency to want to twist and extract." -Wmpyr
For $20 a pair plus shipping and handling, this is your chance to own one of RW's custom weapons. Remember these are unique, high quality, and hand made by a master craftsman that your not going to find anywhere else.
Place your order at:
Youtube.com/CyberDruidtheModGod
Click here for more RW Custom Weapons products!