My goal here is to design martial arts knives. I've always been fascinated by knives since a young age. In high school, I treasured a thick knife catalog showing many kinds of knives such as the Swiss Army knives, survival knives, diving knives, and Opinel Knives. In college I was so excited to get my first tactical knife, the Spyderco Delica and Endura. Training with knives just wasn't enough for me, I even attended knife maker Johnny Stout's Knife Making School to learn how to make my own.
Here are some of my designs. All of these knife designs done by me are PUBLIC DOMAIN. These designs are open to the public, to any individual that wants to actually make them, as long as they credit me for the original design.
---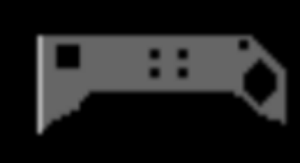 12-1-2015
Dark H2O Knife/Karambit Tomahawk
I decided to revisit my Dark Water Knife design. Scroll down and you will see another version of it. Today I'm not getting into the sheath, just focusing more on the knife shape itself. The light grey is the blade edge. A circle is cut out for weight reduction and for your pointer finger for fine cutting tasks. The Karambit hole has a wrench function. It still can be used as an improvised Tomahawk when tied to a stick.
12-1-2015
Tool & Rescue Knife
Imagine a Karambit that has tool function, and can be used for rescue. The extended part on the spine of the blade is called the "Control Tower". The Control Tower area functions as a multi-tool. The top part is a bottle cap lifter, seat belt cutter, and wrench. This knife can also be used for self-defense closed or blade deployed.
9-11-2014
Ice Scraper Karambit Key Fob
The one in the pic is made from a milk bottle so it's super thin and really just to test out the shape. The actual model needs to be made from a very strong plastic. It goes on your keychain as an Ice Scraper, but it doubles as a self-defense non blade Karambit tool. In emergency situations you can screw on a razor blade to have a makeshift knife. If you want the ring to be able to strike combine it with a NUKO TOOL Punch Ring and you will have one solid Karambit. Legal, affordable, discrete, compact, light, and EDC friendly.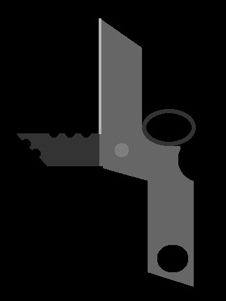 6-11-2013
Prototype - SHEERZ
This is a tactical fixed blade knife that looks like a scissor in the opened position. There is only one edge and it is on the long blade. The shorter blade features non edged teeth for trapping. It's basically a fixed blade with a very large crossguard. This design opens many knew possibilities of pseudo-scissor tactical knives design to trap limbs and weapons. The crossguard can be removed and used as a self-defense non lethal impact Karambit.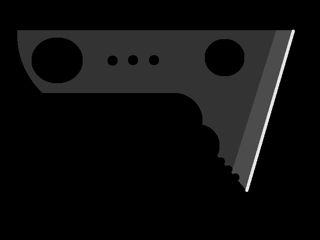 4-15-2013
Karambit Tomahawk
I wanted this knife to be comfortable in a variety of grips when used as a knife and also as a tomahawk. The second largest hole by the blade is for weight reduction and to partially put your finger through it for finer cutting tasks. The 3 smaller holes in the middle are used to screw the knife into a handle for the tomahawk mode, or to tie it onto a branch for an improvised tomahawk, for handle scales, parachute cord handle wrap, or screwing together more than one of these blades to make things like a mini battle axe or mini halberd.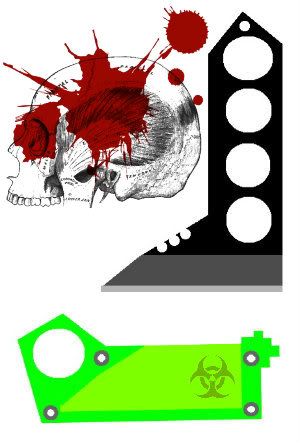 Sept. 2012
DARK H20
Karambit Diving Knife
H1 Steel
The Dark H20 fixed blade is a Karambit and Diving knife hybrid. The blade edge is at the very bottom end of the knife. It features a chisel grind for easy sharpening on the field. It can also be tied to a short stick to make an improvised Tomahawk. It comes with a "combat sheath" made of kydex that can act as an impact Karambit tool.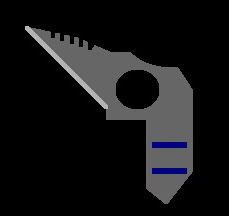 STEALTHARANG
9-22-2012
Minimalistic neck knife, best in forward grip, can be used in icepick grip, there is also a secret 3rd grip using only the finger hole with your middle finger. Angle of blade provides simultaneous stabbing and cutting when punching forward while keeping your fingers behind the blade.
-2" blade
-Chisel grind
-One piece metal, very thick
-sharp jimping on spine
-skull crusher pommel
-pressure point striker (middle point of this M shaped knife)
-3 finger handle (not including the finger hole)
THE MINIGATOR
4-16-2012
I'm really happy with this fixed blade design. This knife is a pistol shaped knife plus a Dulo-Dulo.
The Minigator is thick and very sturdy.
The blade stop region has plenty of room for your finger in various grips.
Handle scales begin low, allowing room to pinch the top of the handle for articulating cuts.
The handle can strike with either end, this design is based from the Dulo Dulo weapon used in FMA (Filipino Martial Arts).
The thumb ramp has jimping for your thumb, and aggressive ridges on the spine of the blade.
I also want to make different variations of this knife. Karambit version, a neck knife version, an extra large overkill size, and last but not least a folding knife version!
SPECS
-deploys like your drawing a gun
-gunmetal blue handle scales
-small storage space underneath the handle scales
-Dulo Dulo style handle for CQC (Close Quarters Combat)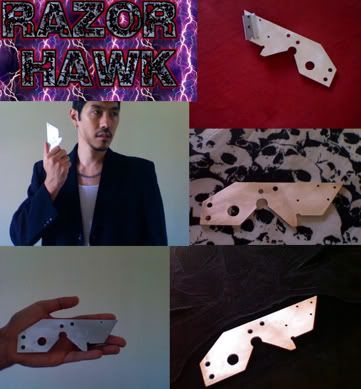 RAZOR HAWK Self-defense Impact Weapon
"Talon for the streets"
Sept-2011
click here for print out image to make your own cardboard model!
MSJ!
MONSTER SHANK JET!
10-9-2011
click here for print out and make your own cardboard model!

9-5-2011
Wmpyr Neck Knife
this is the final evolution to the Wraith series.
1. No longer a Kubotan, now it is a neck knife.
2. Like it's predecessor it has the ability to salvage blades.
3. Buy more than one to connect them to create your custom knife.
4. Accessories like the WP5 will be available.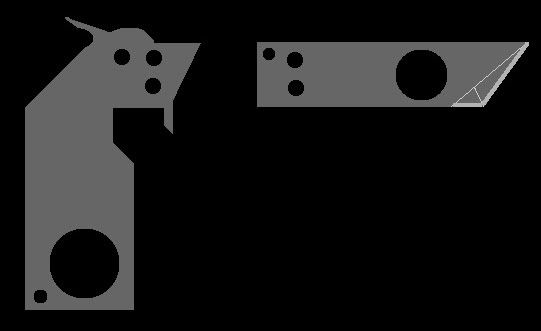 Karambit Impact Tool + Neck Knife
Screw on the Neck Knife to the Karambit Impact Tool. The Neck Knife can be attached in multiple positions.
8-24-2011
WP5 + MAG Knife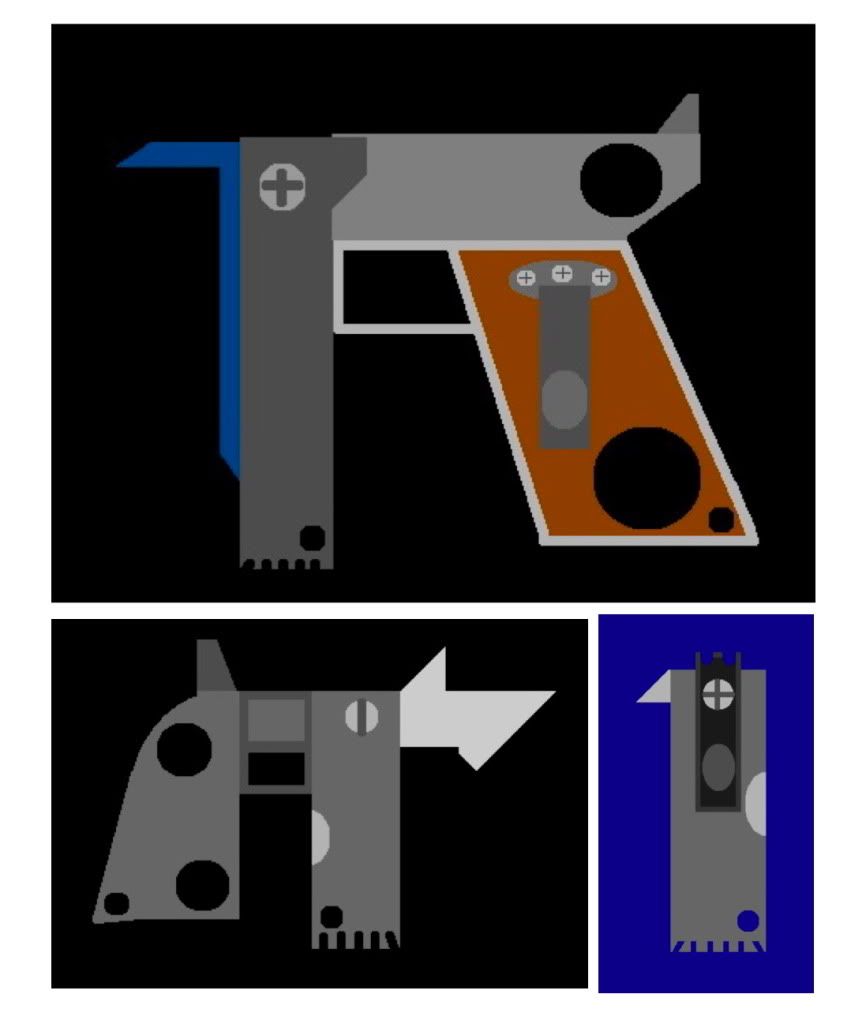 Top is the WP5 + MAG Knife, Left is the WP5 modified + MAG Knife, Right is the MAG Knife
The WP5 is designed to be a very effective compact impact tool.
The MAG Knife is designed to be a very solid and basic knife so that variations can be made available.
WP5 Impact Stick + MAG Combat Knife
Influenced by STI Knives and MP5 Submachine Gun.
-Removable Folding Knife
-Karambit Hole
-Trigger Guard
-Top Pocket Clip
CLICK HERE FOR MORE INFO!
The Karambit Claw
-Hex Wrench Finger Hole
-Ring is designed to look like a jewelry ring
-Finger Choil with Attack Guard
-Spike for Ambidextrous blade deployment
-Fortified tip
-High Arch blade edge
-Impact Karambit Tool when closed
REK
The Rough Environment Knife
Good work horse of a knife that deploys well under extreme weather or hostile territory. This is the K4S proto type knife
FRANKENTRAIN
The first cool training knife for Zombie Apocalypse. Fully functional for training and self-defense.
Mega Beast
Post-Apocalyptic Future fixed blade designed to accept folding knife blades salvaged by you.
K4S Wraith
This is the original design for the Post-Apocalyptic Future fixed blade. Designed to accept any blades you scavenge.
Use common screws to attach a blade from cheap or broken folding knives.
Of course the Wraith makes an excellent Self-defense Palm Stick when there is no blade attached to it.
Dark Jester
SD Palm stick when closed. Finger safety area at end of handle. Crown at the front of handle for striking, Beak at the end of handle for striking. Thorn for opening and striking. Double lanyard hole for improvised spear. Strong tip Tanto blade.
Arm Wrench Knife
Spine of the blade is made for trapping, catching, and painfully gripping the arm.

Knife100 MMAK (Modern Martial Arts Knife)
More Info
CERBERUS Impact Kerambit + EDC Knife
Relatively straight handle to accommodate a variety of grips.
CLICK HERE FOR MORE INFO!
WSK + Bowie = Rambowie Knife
After I made the Kerambo, I was challenged to design another survival knife by Robert a knife maker friend in Germany.
Skeletal Fixed Blade
A simple fixed blade slightly larger than a neck knife, I wanted tons of holes in it so that it can have many things attached to it so the owner can personalize it.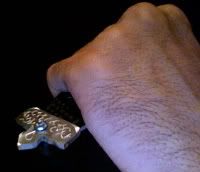 Vik-Key
Not a knife but attaches onto a knife. Based from Thor's Hammer design this easily screws onto the Spyderco Delica lanyard hole to become a glass breaker attachment.
SPY BLADE
Suppose to look like a fancy wrist watch with a hidden blade. Can be used for self-defense, but more so for cutting yourself free, and as an emergency WSK.
Naga-Key
Not a knife but attaches onto a knife.

Sub Zero Knife
This knife is Cryo Treated.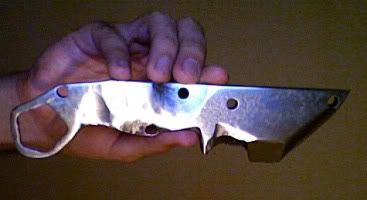 KERAMBO = Kerambit + Rambo Knife
DoeBowie
My first knife. Tactical Hunting Knife. Features Mermaid's tail handle for switching grips. And two lanyard holes.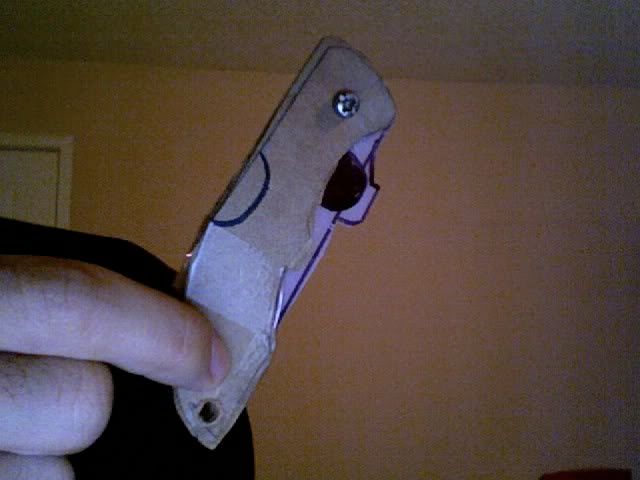 Hokkai (North Sea) Knife
This is basically the same concept as the Sardine, with different specs.
Hokkai
Sardine
Heavily influenced by Spyderco, it has a pointy "Control Tower", and a Japanese Hocho style blade.
MMC (Man Made Claw)
Kerambit style folding knife with capability as a Palm Stick.
OOK (Double-O Knife)
This one reminded me of a military blade with lots of nifty features, including improvised caltrop! To do the caltrop put in long screws and bolt for a base on the spine lanyard holes, when upside down so that the blade edge is pointing up.
MBC (Metal Based Creature)
I went all out designing this guy, in the end I needed a name for this beast, reminded me of the Nautilus from 20,000 Leagues Under The Sea.