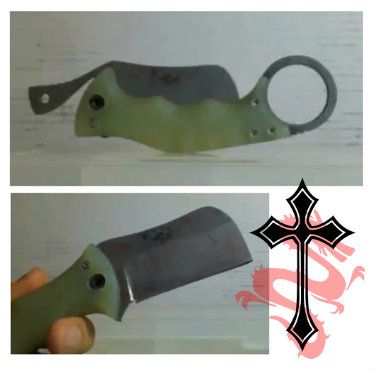 Prototype Friction Folder Karambit made by Andy from Doberman Knives
www.youtube.com/doberman74
First and foremost I have to say a big thank you to Andy, who resides all the way in the UK. I am very fortunate to own this unique knife. I'm not just saying that because it is a prototype, but also because Andy took the time to consult me with designing a Karambit knife. Let me just say that it is great to own a knife that I helped make come to life no matter how small my actual involvement was.
The concept of a Karambit friction folder is very unique, I've never ever seen one before. And let me tell you that it handles great. A friction folder doesn't have a lock, and I really like that kind of simplicity. Andy told me that the idea behind this knife was to make something that was going to be legal, not scare people, and be a functional utility knife despite it being a Karambit which is a well known martial arts knife.
This knife features a non aggressive looking sheep's foot style blade, Stone wash acid finish that gives the blade a sweet organic look! The handle scales is one of my favorite things about this knife, it feels great in the hand, it's smooth but grips back, and the jade color is absolutely gorgeous!
The ring has a really good balance between being a solid striking tool and a smooth flipper. This had to be a very challenging project, Andy did a great job, and I believe he was successful because he loves tactical knives, and he loves martial arts. He plans to be making more of these and I'm glad to hear it, maybe some day a production company will see the value in this design and decide to mass produce it for the public. Until then, be sure to show your support to the custom knife makers out there!