Thursday, November 25, 2010
Trading Cards of Youtube Martial Arts Personas!
Be sure to visit their excellent Youtube channels!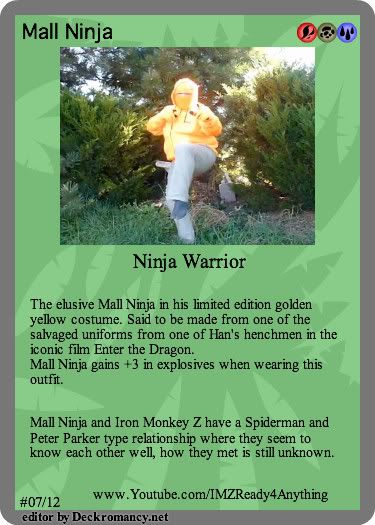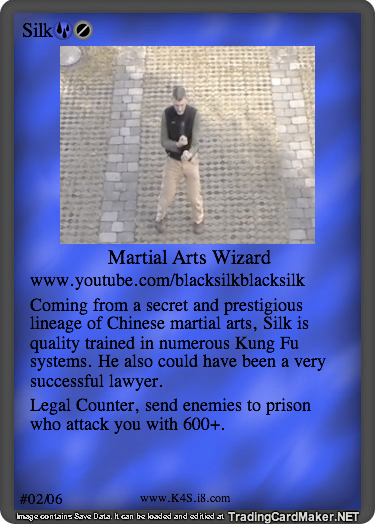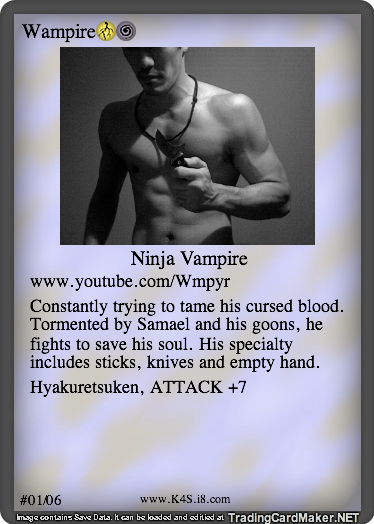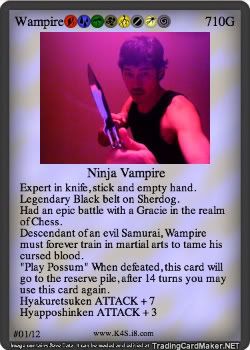 Posted by

Wmpyr
at 8:13 PM
No comments:

Wednesday, November 24, 2010
ケルベロス
K4S brand original knife design by Wampire
When closed this knife is an Impact Kerambit Tool ideal for self-defense.
***CONCEPT***
This knife is based from the 1918 trench knife, which is a dagger with a skull crusher and brass knuckles. The trench knife is totally offensive made for combat. I basically thought to myself, if I made everything as legal as possible what would the knife look like?
Smaller folding knife instead of a large fixed knife, Tanto blade instead of dagger, Impact Kerambit instead of brass knuckles, pointy areas instead of a skull crusher.
So instead of blood & guts combat, this is designed for protection in a modern urban setting.
***BLADE***
I know what your thinking, a Kerambit should have a curved hawk's bill blade.
The handle is totally straight because a straight handle provides the most number of grip options, that's important to me because I believe that in a crisis situation sometimes you just have to grab the knife and use it in whatever grip you end up with and pray that your knife works well that way.
The tanto shaped blade was chosen over the hawk's bill blade because it has a stronger tip and hey it can be used to pierce armor. But seriously the tanto is just a good blade shape for many types of fighting tactics.
The point is closer to the spine of the blade so you can even do a backhand attack with the spine.
***HANDLE***
The Karambit ring hole can be used as a hex wrench, imo the hex hole provides more control than a circle hole when spinning the knife.
A "three in one" multi-tool.
1) Folding Knife
2) Impact Kerambit
3) Hex Wrench
SPECS
-Tanto shaped blade
-Karambit ring
-Lock back
-No pins, all screws, taking apart friendly
-Thorn for ambidextrous thumb opening
-Ricasso claw (aggressive finger guard)
-Lanyard hole and secondary lanyard hole
-Aggressive jimping on spine of blade
-Hex wrench
-Glass breaker on head of handle
-Glass breaker on the Karambit ring
-Chisel grind
-Pocket clip (not shown)
-Self-defense pocket stick with 3 points of striking
-Impact Karambit tool when closed
***USAGE***
1) In the closed position this knife is an impact Karambit tool that is basically a pocket stick on steroids.
2) In the open position this knife is very versatile in grip and cutting choirs suitable for EDC and self-defense.

Tanto + Kerambit = Good for EDC & self-defense
PAGE 1
PAGE 2
PAGE 3
PAGE 4
CERBERUS Folding Knife

Click on here or thumbnail for larger size pic
Cerberus LEGO Knife
Posted by

Wmpyr
at 12:54 AM
2 comments:

Tuesday, November 23, 2010

Please send your questions to my email address, that way I can make sure to respond back. Contact Wmpyr at:
knifebat@yahoo.com


If you want your website featured on our links page, we are currently offering "Link for link".
Posted by

Wmpyr
at 2:39 PM
No comments:



K4S AKA "The Blue Print" is the core for Wmpyr's martial arts system

Congrats to Katy & Mallory K4S certified June 2010!

-Health Exercises
-Warrior Workout
-Stick Fighting

They also got to experience many other martial arts such as Kickboxing, Knife Combat, and meditation.

Best of wishes to them in their martial journey!

Katy and Mallory attended approximately 60 classes with Coach Wmpyr to gain their certification.
Posted by

Wmpyr
at 1:31 AM
No comments:

K4S KNIFE T-shirts!
click here to purchase from CafePress
Knife T-shirts
The following are the graphics for my knife t-shirts.
The basic concept was to design a knife t-shirt, because I love knives and I just haven't seen a whole lot of knife tees for some reason. I also wanted the knife to be a tactical knife rather than the commonly used fantasy knife.
Both tee shirts present a type of Kerambit knife which is widely popular in martial arts circles. The knife is centered on the tee like a neck tie that can look good even when some kind of jacket is worn.
Valmont Tee is a Vampire inspired t-shirt.
Featuring a tribal rose background,
Inside the handle ring is an amethyst gem like color.
Platinum Tee is a hip hop bling-bling style shirt.
The Kerambit word is presented across the shirt in a Brazilian Jiu-jitsu kimono gi style.
The platinum color knife features a sapphire like sparkle inside the handle ring.
Available exclusively at www.cafepress.com/knife34
Posted by

Wmpyr
at 1:17 AM
No comments: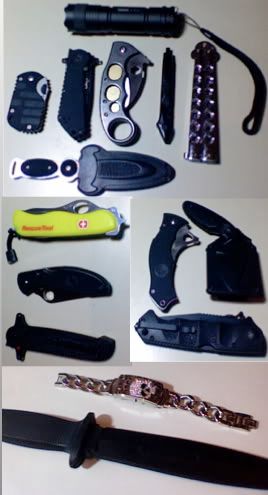 Coleman Tactical Flashlight,
Boker Subcom Folder,
Boker Armed Forces Tanto Folder 1,
Karambit Folder,
Boker Jim Wagner Urban Survival Tool,
Chrome Butterfly Knife
Dagger Neck Knife
Victorinox Swiss Army Rescue Tool
Spyderco Delica,
M16-13 Special Forces G10,
Lapu Lapu Corto Gunting Knife,
TDI Law Enforcement Knife,
Boker Jim Wagner Reality Based Blade
Marc Ecko Better Off Dead ID Bracelet watch
Cold Steel Training Knife
Posted by

Wmpyr
at 12:55 AM
No comments: